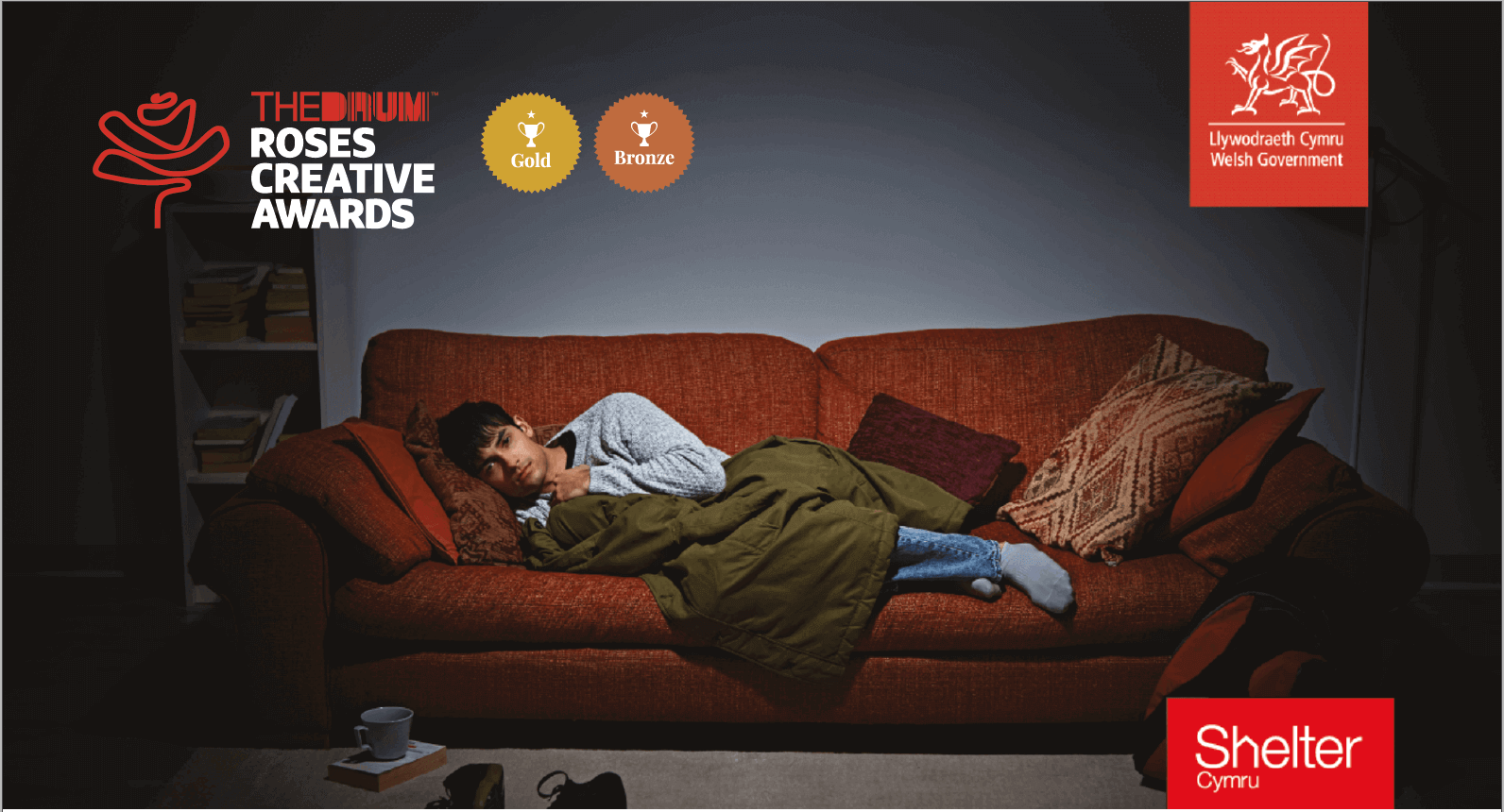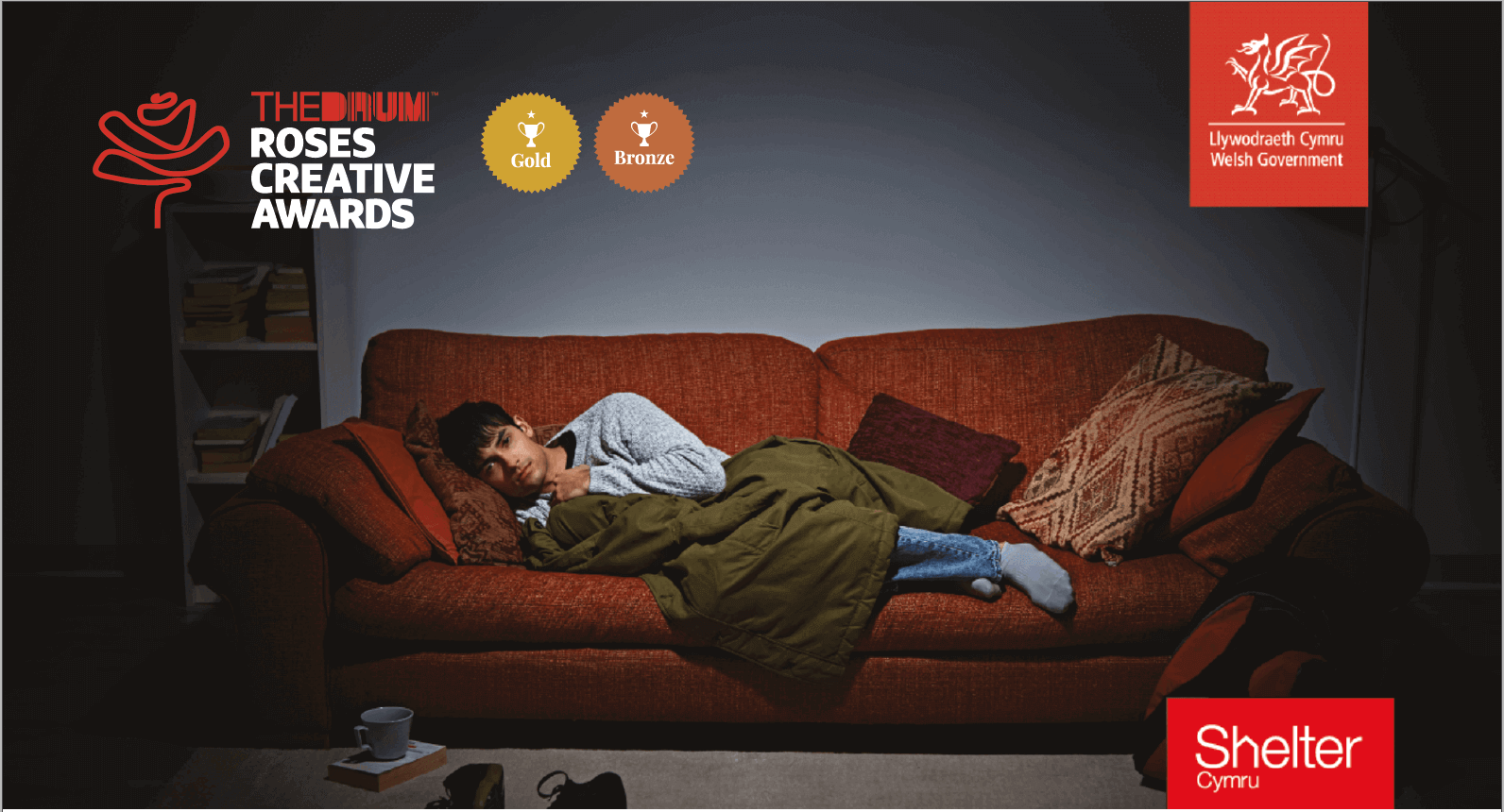 Shelter Cymru
An award winning national campaign to raise awareness of and to tackle youth hidden homelessness in Wales.
In 2019, over 3,000 young people in Wales became homeless, but the exact figure of 'hidden homeless' is unknown. These are people who don't consider themselves homeless – maybe they're 'sofa surfing', moving from place to place, or staying in other temporary accommodation. The truth is, if you don't have a place to call home, it's likely that you are experiencing #HiddenHomelessness.
In support of Shelter Cymru and the Welsh Government, our brief was to create a high-profile, bilingual campaign and our objective was: to raise awareness of the issue of hidden homelessness and to increase the number of young people getting support from Shelter Cymru.
Our strategy was to build awareness of hidden homelessness and its 'signs', and to engage the community through education and information. We wanted to challenge the negative perceptions around homelessness and empower those at risk or already experiencing hidden homelessness so they can seek help. We also wanted to raise general awareness because many of us may well know someone who Shelter Cymru could help.
Launched in January 2020, the campaign included a mix of above the line and digital media such as TV, radio, Spotify, digital billboards, social media, targeted mobile, and out of home advertising. The target audience was young people aged 18-24 years old and we knew it was important to have a more real/personable tone of voice throughout. So, we featured those who currently are and those who have been through it, as well as the Shelter Cymru workers, who are helping young people going through hidden homelessness.
We created a hero film highlighting the signs of hidden homelessness – the many situations young people might find themselves in, while not considering themselves 'homeless' – i.e. sofa surfing at friends' houses, staying late at a library, or even staying in work as long as possible. The film was all shot in first-person, prompting viewers to experience what a young person is going through, enabling young people at risk to realise they may be going through it, while encouraging the public to 'spot the signs' and help if they know someone who may be at risk.
To support the hero film, we created a series of hub films featuring real stories of two young people who are currently, or have been through, hidden homelessness – Deanndra and Lewis. Shelter Cymru worker, Mark, was also featured on a third hub film, bringing to life the service and the people behind it, providing reassurance and encouraging young people at risk to seek help.
An 'experiential' event also took place at the start of the campaign – where we recreated a living room space in the Cardiff Central Library, including a large sofa, cushions, coffee table and even a rug!  Members of the public were invited to sit on the sofa and listen to audio recordings of both Deanndra and Lewis telling their stories of hidden homelessness, as well as to talk about their perceptions and issues surrounding hidden homelessness. Shelter Cymru workers were on hand to provide information and support to the public as well as anyone who may be experiencing hidden homelessness (some people even asked for help at the event). It was attended by both the Minister of Housing and Local Government, Julie James AM, and the Shelter Cymru Director, John Puzey, who provided supporting information about the campaign which was then also featured on the media coverage achieved.
The campaign delivered some exciting, tangible results – not only meeting the SMART objectives, but surpassing them:
Nearly 60,000 visits to the campaign website (against the target of 50,000 visitors)

3,195 conversions (320% result against the 1,000 goal)

3 million overall impressions from the search and display ads alone (2.8 million of which fell within the 18-24 target audience)

The social media strategy delivered just over 5 million impressions, reaching nearly 1.9 million people between 1st January and 24th March
We are extremely excited to move forward into the next phase of this campaign and continue the fight against hidden homelessness which now, more than ever, needs to be spoken about.